Sculpture talk in T.Nagar – Balajee GE T.Nagar
Time of T.Nagar, dated 7-12-08

KUMBAKONAM-BASED SCULPTOR, K P UMAPATHY HAS BEEN INVOLVED IN REVIVING INTEREST IN THE ART OF SCULPTING. THE MASTER SCULPTOR WAS IN T NAGAR, RECENTLY, TALKING ABOUT SCULPTURES IN MAMALLAPURAM.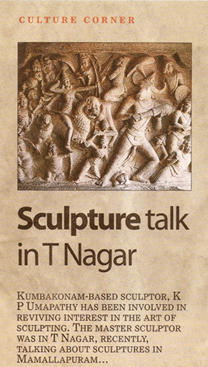 Countless number of tourists have come and seen the famous rock-cut sculptures in Mamallapuram wondering how the Pallavas could come up with such wonderful art thousand years back. To demystify the secrets of rock sculpting by the Pallavas, hereditary architect and sculptor, K P Umapathy Acharya, lectured on the topic, Durga Images in Mamallapuram - a study of their iconography, at the Thakkar Bapa School in T Nagar. The Shantha Prasad Award winner for Excellence in Craft Skills spoke at length about the many ingredients that led to the creation of these timeless sculptures.

The sculptor referred to Durga Images, especially the Mahishasuramardhini Panel, in Mamallapuram. He explained to the audience that these sculptures, more than any other, excelled in artistic beauty and spiritual composition. "Indian sculptures are very different from those of the Western world. While Western sculptures are far more objective, Indian ones are subjective.

The sculptures are a reflection of the sculptors' "spiritual elevation," says Umapathy who hails from the famous Viswakarma clan (that created the sculptures of the Pallava era). He gave a fascinating insight into the minds of the sculptor, including the reason behind choosing a particular type of rock and deciding on a particular god or goddess.

"Art and spirituality are inseparable components of a sculpture. While art is objective, spirituality is subjective. The inspiration behind almost all our sculptures can be traced back to the Vedas," he adds. He referred to the Shilpashastra (study of sculptures), while explaining that the Durga images provided an excellent interlink between cosmology and scale of measurement. He avers, "The images are actually lessons in quality management. The image is 25-30 feet above ground and, yet, even the minutest detail has been taken care of, perhaps, a reason for many multinational corporate managers to come over and take lessons in management."

The talk, organized by S Swaminathan, a former IIT Professor along with a few others, was part of an effort to help people understand the roots of Indian heritage. "No other civilization, except the Chinese, has been as continuous as ours. But still, many of us have not taken the time to understand our roots better. We want today's youth to understand our past to help make their future better.

This is a small step in that direction," says Swaminathan. "In India, where textile is also a form of art, many of us are easily able to identify different types of textiles. But the same cannot be said about sculptures. Indian heritage is very rich," he says. But why Mamallapuram? "After Ashoka, no other ruler used granite for sculptures till the Pallavas. How they managed to master the art is in itself raises curiosity. In my opinion, the Mamallapuram sculptures are the greatest tutorial on rock architecture. It also poses more questions in rock architecture than answers."

Swaminathan had earlier organized a lecture on Sittanavasal Paintings and on Tamil Heritage. Next on his itinerary is a talk on Physics and Aesthetics of Music. "We want our people to take our heritage seriously," he adds. Surely, with talks like these, that day is not far away.


more...